CRM Banking & Insurance
E-DEAL CRM brings innovative customer relationship
to the banking and insurance industry
With E-DEAL CRM, turn your Customer Relationship into a competitive advantage
The industries of banking, insurance and mutual health insurance are currently undergoing important transformations. The entry into force of new regulations, such as the French national interprofessional agreement for insurers and Basel II for banks; the digital transformation of existing actors along with the arrival of new on-line actors and the diversification and customization of offers available in terms of property and casualty insurance and other insurance products all contribute to making the market increasingly volatile. Now more than ever, if they want to benefit from new business opportunities while retaining existing clients, banking and insurance institutions need to re-think their strategy and accelerate their digital transformation, get to know their clients better and adapt their offering to the individual expectations of the latter.
E-DEAL CRM helps banks and insurances capitalize on their customer knowledge, implement an omnichannel approach and define effective marketing strategies.
Issues
Optimize overall customer experience
Successfully complete digital transformation
Offer a competitive customer service
E-DEAL CRM's answer

Offering the right person the right product at the right time
Customer knowledge is a fundamental asset for any company. It is what gives you the keys to adequately adapting your offering and sales approach in order to meet the expectations of each individual customer. E-DEAL CRM helps you develop this customer knowledge and re-use it with a proactive and efficient approach.
A 360° view of your clients, their household, their products and networks,
Underlines potential sales opportunities
Records of each customer's current contracts, whether they are managed by you or your competitors, ensuring you can react at the right time
Easily configurable, "business-specific" rules to define relevant and adapted scorings
Key Performance Indicators (KPI) to assess the profitability of your actions and the loyalty of each customer
Automatic notifications to help your operators be proactive and identify potential opportunities (a contract which coming to term, the eldest son is about to turn 18, maybe this is the right time to offer a student loan, etc.)
Enregistrer
Enregistrer
Enregistrer
Enregistrer
Adapt to new uses to get to know your customers and prospects, wherever they are
As contact points multiply —physical networks of agencies, on-line comparison engines, website, phone, email, social networks, mobile apps, etc—, so too do potential customer interactions, therefore fully controlling your clients' overall experience has become paramount.
E-DEAL CRM helps you take charge of your customer experience, from first contact and throughout the life cycle of their contracts, by optimally combining all interaction channels.
E-DEAL CRM connects to all the other components of your IS, be they internal (underwriting software) or external (on-line comparison engines) in order to optimize and enhance the actions of your tele-consultants with clients and prospects.
Whether on-line or from their mobile application, your clients can access all useful information from their personal portal: follow-up on their requests, reimbursement claims, etc. and you can "push" new offers depending on the context.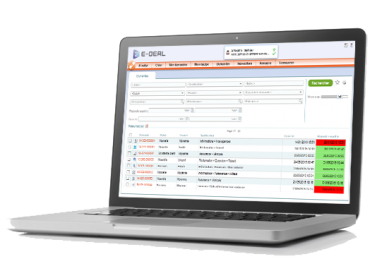 Satisfying clients by offering service quality
Thanks to E-DEAL CRM you can optimize your customer service while also making the work of your tele-consultants easier. A veritable complement to your customer relationship, E-DEAL's request management module offers comprehensive options to adequately follow-up on enquiries (claims, litigations, request for information, etc.), from the moment they are logged in your system until they are solved: knowledge base, SLA, contextual workflows, etc.
With E-DEAL CRM, you will have a comprehensive view of all your customer information and sales opportunities at a glance, and its fully configurable rule engine lets you adapt applicable SLAs to the situation of each individual client.
Enregistrer
Enregistrer
Enregistrer
Enregistrer
Some references in this industry
Request your access to the demo